My Story
I am the daughter of a retail pioneering mother. She opened a florist in 1957 with me in tow. I made my first corsage at three and grew up in that flower shop where I learned more about business than I would ever learn at the Cox School of Business at SMU where I graduated in 1977. Mother had common horse sense, for which there is no curriculum. I worked with Mother as a child helping with catering for weddings on weekends and around the clock on holidays. Shortly after opening the florist, she opened a Bridal Salon which I managed after graduating college, although I was doing the buying for the bridal shop when I was 13! I left the shop when I married because I was told Bush wives don't work outside the home.
Facial Services at Sharla's
Periodic facials are essential to sustain long-term ageless skin.
Give Yourself Permission to Pamper!
It's right to indulge in personal luxuries that pamper and rejuvenate. Your skin is your largest organ and needs a daily care routine. Think of your skin as being like flowers on a hot day and how they need watering. If only occasionally cared for, they don't thrive. If you want youthful skin, get into the habit of daily care.
The Best Ingredients For The Best Skin
Responsibly Sourced, Cruelty-Free, and Ethically Formulated Without Harmful Ingredients
Sulfate Free
Paraben Free
Mineral Oil Free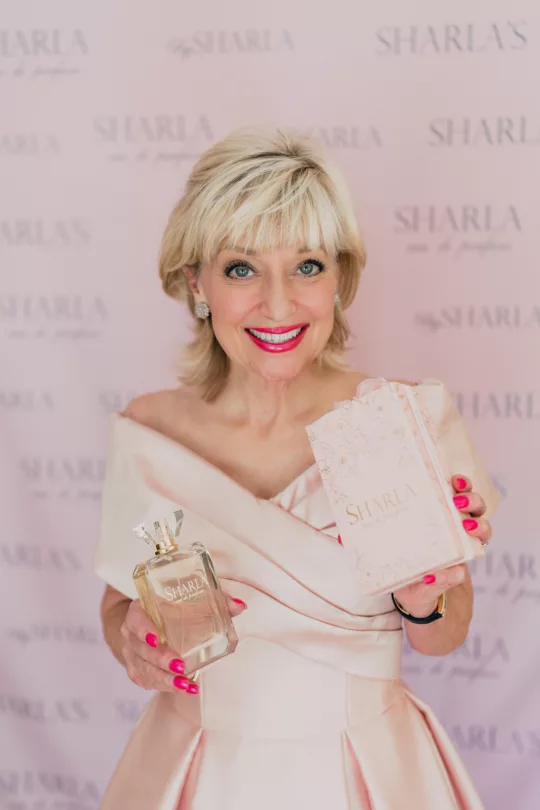 My Perfume Story
I grew up in a flower shop and spent my toddler days playing with flowers until I started school. My favorite memories are of fresh crisp fragrances when opening the ice boxes (as we called them back in the 50's). I loved going with Mother to the wholesale florist and walking through refrigerated rooms and inhaling all the splendor. Trips to the nurseries for outdoor plants were magical. The woods, plants, and fresh soil were a quiet respite from our busy world. Daddy's vegetable garden was loaded with hot peppers we enjoyed. To this day, I pepper everything but dessert!
Creating my own perfume brought all these memories back as I selected my favorite flowers to complete a fragrance reflecting the most enduring moments in my life. A dear friend drew the flowers on the box representing several of the notes.
From flowers to peppers, my fragrance is a story of a young girl with humble beginnings. I am inspired by my pioneer 1950's career mother and my daughter who owns a flourishing boutique while raising a growing family. Sharla eau de Parfum is my dream come true. To everyone wearing it, I want you to be inspired to make your dreams a reality.
May the memories you leave with those near you be sweetened by the scent you carry in the notes within this bottle. Live Beautifully!
Sharla
Other Collections We Offer
Available in Store or By Phone